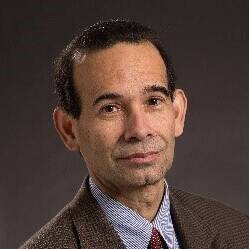 Ron Perez Legacy Fund
Ronald "Ron" Perez, PhD (1961-2020), served UWM in a variety of roles for more than 30 years. Born and raised in the Dominican Republic, Ron earned his engineering bachelor's degree cum laude from the Universidad Catolica Madre y Maestra. He moved to the U.S. to attend graduate school at Purdue University in West Lafayette, Indiana and joined UWM in 1990.
He started his career as an assistant professor in the College of Engineering and Applied Science, where he later served as chair in the Department of Mechanical Engineering, associate dean, and from 2007-2008, interim dean. He was named interim associate dean of the Joseph J. Zilber School of Public Health in 2014, interim dean a year later, and dean in 2018. In 2018-2020, Ron played a key role in the unification of the Milwaukee, Waukesha and Washington County campuses, serving as co-chair of the UWM Restructuring Team. He served as UWM's inaugural special assistant to the chancellor for strategic cultural change as a member of the chancellor's cabinet, driving cultural change on campus through identified initiatives.
Impact
To establish a lasting legacy by honoring Dean Ron Perez for his tireless service to UWM and its students.